Take your team to next level! 
Football season means more for certain members of the football community, for those people who transcend the twelfth man, and become managers of their own. Fantasy football owners operate teams with varying levels of skill, from managers who rival Tom Landry on teams, to those who are more along the lines of Taco, from FX's fantasy-football show The League. But no matter what skill level, managers have had a tough time figuring out one thing, the future. Well, Injury Predictor, developed by Teach Me Sushi, has arrived in the iTunes Store and is ready to help fantasy footballers take their teams to the next level. For only $2.99, players can take a look, with 68% accuracy, at whether or not a player will be injured within the next season, based on the company's algorithm, which takes into account 50 different metrics.
The operation of the app is simple. When opening Injury Predictor, a box comes up for users to enter a player name. From here, they can tap on the player if they are in the app's database, although the app appears to be in it's infancy, and only longtime and major players are included at this time. For example, much of the Seahawks roster was not found on the app. After finding your player, the app displays their name, position, and a picture of them from a recent game. Below that are four metrics for managers to take into account. The injury season probability is first, helping managers determine a player's risk based on the app's calculated probability of their missing out on a whole season, which would make them exceptionally hard to trade.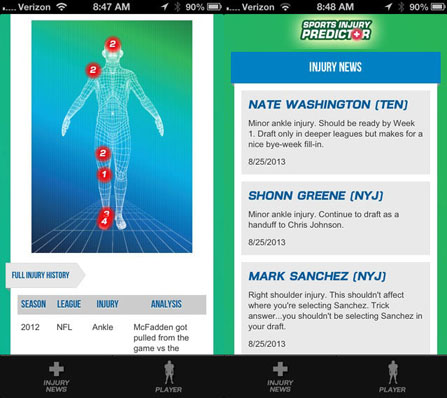 Also calculated is a player's injury game probability, the probability they'll miss games throughout the season. This helps managers, as they can work to line up two players with similar injury game probabilities, and be good to go for the season. Injury Predictor also includes an average injuries per season rating, and average games missed per season rating. This is followed by an oft-tongue in cheek player overview, and a diagram of places on the body the player has been injured. A full injury history follows, with the year, league, injury area and description of the injury. Also included in Injury Predictor is an injury news area, where users can get up to date information on players they've been keeping an eye on, and players they may have on their teams as well. This area is updated multiple times per day, as players are injured, giving managers a leg-up on up to the minute news.
For managers, a great way to get a leg-up on others in their fantasy football league is with Injury Predictor, now in the iTunes Store. The app boasts a high level of accuracy, and gives managers the ability to research their players easily while on the go, to make trades on the fly. Users will also be happy with the app's often updated injury news area. It does appear that the app needs more players, as only a few are in the app currently. Either as injuries are had, or as the season progresses, one would guess that more will be added. The app is a great investment for fantasy football guys, and at $2.99, it seems totally worth a try to gain the upper hand, and earn the bragging rights, and the Shiva, at the end of the season.