Ever wish when you see a post of a picture on Snapchat or Instagram that you knew what actually happened? Photos tell a story, there's no doubt, but when you see small clips of video, the content shared is a moment that helps viewers almost be a part of it, without actually being there.
While shooting and sharing video clips is not as easy as just taking a quick pic and posting it, most people would agree that sharing GIFs and clips is more fun and engaging. Well, now you can have your cake and eat it, too.
You don't have to always have to take video to share video. Nope. UberGif is an iOS app that will take a live photo and will convert it into a GIF, so you can share what you took as a picture, but it will show as a GIF. If that sounds too good to be true, then read on.
UberGif doesn't add on to your photo with anything that you haven't already recorded; and while you sit scratching your head wondering exactly how an app can take a still photo and bring it to life, I will explain the magic.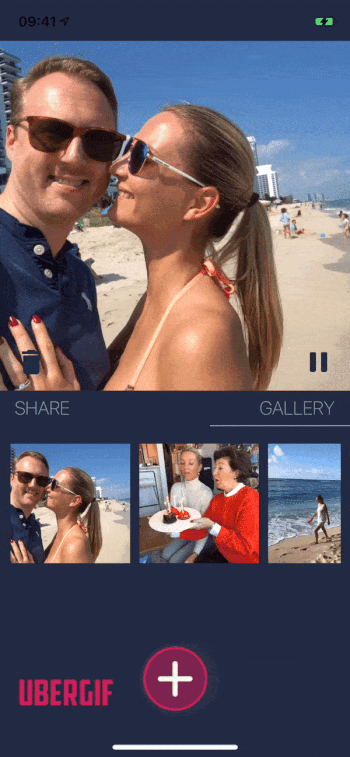 So, when you take a photo on your iOS device, and it's a "live photo", the iPhone is actually taking a bunch of photos before and after the one it saves and shows you as the final taken photo. You never see those before and after shots, they are kept in memory someplace, but never show in your album. iOS does this to make sure it gets the lighting, focus and placement just right, so the final photo has a decent amount of quality.
UberGif has access to those photos, so what it does is take them all and puts every one of them together to assemble a small video clip or GIF. All you have to do then is save it and then share it. You can send it to email, to Facebook, Twitter, SnapChat, Instagram, and many other social media spaces.
The app also allows you to order refrigerator magnets of those photos, as well – kind of a keepsake of a moment, and they make great gifts.
There is nothing difficult or complex about this app. As long as you have a photo you want to turn into a GIF, you are set to go. I'm not sure if the app allows this easily or not, but it would be nice to be able to actually take the photo from within the app and then send it on its way. Making it even easier to capture a shot and send it out as a moving picture.
By taking advantage of data that's already there, UberGif makes magic by bringing your photos to life. What better way to share a beautiful memory.

Rating:  8/ 10
Price: $2.99