Don't leave any margin for error!
If you are a sales professional, you should be aware of the difficulty in proving sales proposals for the customers. It involves many complex things – taxes, profit margins and sometimes the list may be a very long one. If you struggle in this area and are looking for a handy tool, this review would help you out in getting one.
QuoteMaker Pro is an iPad app that lets sellers have the control over their sales quotations so that they could know the profit margin instantly while preparing the proposals. As this app deals with a complex area, users need to visit a few sections of the app before using it. The first of them would be PREFERENCES.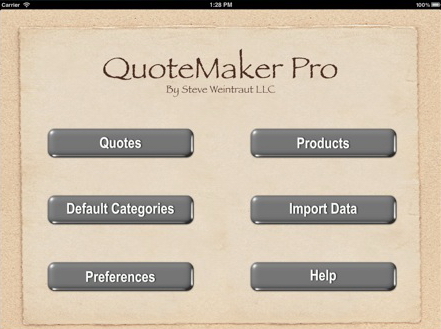 This area lets users customize the proposal to their needs. They need to set things like company name, logo, header and footer text and global margin. Then there is QUOTE LIST with a few sample quotes and a list of few products to help users explore the app. They can delete this sample quote and start preparing their quotes. [pullquote]GRAB and DUPLICATE actions could save a lot of time for the users.[/pullquote]
If the users want to copy a particular configuration from an old quote, they can do it just by using GRAB action in QuoteMaker Pro. If they use a few configurations regularly, they can set up a fake quote. When the users need an exact copy of an old proposal, they can get it by the DUPLICATE action. Users can print and email the proposals straight from the QUOTE DETAIL section.
QuoteMaker Pro is compatible with the iPad and it requires iOS 4.3 or later. The size app of the app is 8 MB – comparatively a slim utility. However, the price is slightly on the higher side (USD 14.99). Let us hope that busy business people won't mind that. This app is really a savior for sales related professionals!
Rating: 8.5/ 10