An easy way to sell videos!
Social media and sharing of content has exploded in popularity and frequency, with YouTube harboring the bulk of attention when it comes to easily distributing and publishing videos. However, it does not provide for an easy way to sell videos. You can bait and reel in interest by posting a few freebies, but after that, the real challenge comes in how to market, share and sell them is an easy to use but far-reaching way.
Uscreen is an app brought to us by Uscreen.tv. It offers an extremely simple and easy to use portal for video publishers to put up their stuff, market it and sell it. It also provides users an easy way to find all sorts of videos, purchase and manage them – all from one app. No more searching for where you found a particular yoga class, a webinar on how to improve blog postings, or a funny clip your friend sent yesterday. You can consolidate and bring them all together in one place – Uscreen. This app charges nothing for this service, but only requires you to register with them, using an email address. Once you download this incredibly sleek app, you will see there are already a few sample videos loaded on your account.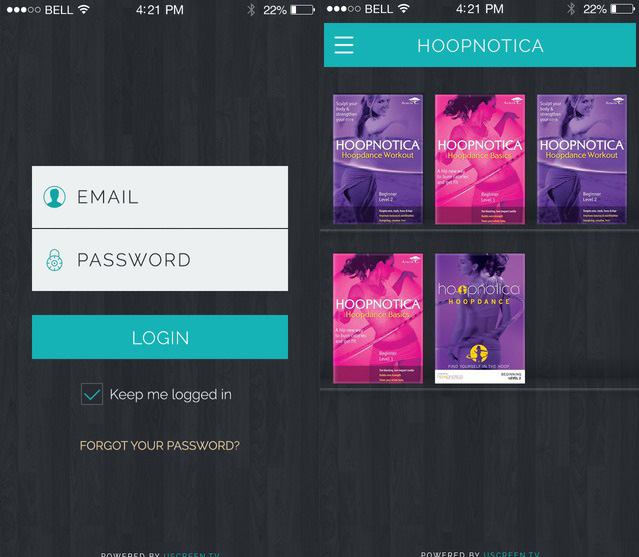 To the left is the main screen from where you can learn a bit more about the app and control how you would like to use it. There a short description of the app with an invite to learn more on Uscreen's website. The privacy policy is self-explanatory and is the Terms of Service. Next, you will see a page that lists FAQs. These are most helpful, because here you can peruse from a multitude of questions already asked by Uscreen users, to see if the conundrum you are having is just not all about you. You might find an answer to a question you have, easily and to the point. If a question you have is not found on the FAQ page, simply go down to the Email Support link, and you will conveniently be taken to your device's email app with the recipient already filled in.
Uscreen provides its customers with links to their site so customers that purchase videos can easily roll them into their Uscreen app and easily view them from any of their Apple devices in a safe and private environment, helping to eliminate any fraudulent hacking. The app itself was very impressive in terms of layout, usage of colors and readability. However, I was unable to find ample information from it to learn more about how videos could be uploaded or accounts could be set up. I think that instruction should be better emphasized. Once I went to Uscreen.tv, I better understood the app and its function. Outside of that, this is a pretty neat app for small or large businesses owner, educators, or anyone who has videos to share or sell.