Get your eBooks signed!
You are on a trip overseas with your parents and suddenly you are informed that your favorite author, say Dan Brown, is on board in the next cabin. You realize that you do not possess any of his books at present and you feel sad on not being able to get his autograph on one your books. Or, you suddenly happened to realize that you had read all his eBooks and now you don't have a handy physical book to take his autograph. You might feel disastrous thinking that digitized books have taken your only opportunity of having a memento of your favorite author. But do not worry; here to the rescue is the iSigned app, another product of digitization, available only for iPad users that allow you to get your eBooks signed by your favorite author.
Sounds impossible!! But this app allows you to take your pictures along with the celebrity and get his autograph on it. You then insert the signed pic right into the ePub version of your book, not touching the DRM. This prevents signed books from being copied and distributed. The autographed sheet is inserted as an extra page in the eBook. You also have the liberty to insert a video of the author right into your eBook, a memory that is trapped forever in the pages. A personal video message, or an autographed pic is a treasure in its own rights and iSigned app preserves it for you.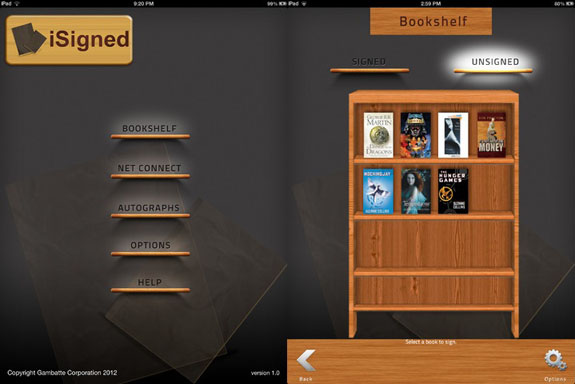 eBooks have created a tsunami among avid readers as they debate between its merits and demerits and advantages over printed versions. Some feel that eBooks have been quite beneficial over printed papers concerning transportation and mobility. But, others are of the opinion that lately it has destroyed the relationship between the authors and their fans. Concerning this uproar in the digital world of eBooks, the Gambatte Corporation has taken the initiative to bring about another striking invention that paves the path for a glorious journey of eBooks.
iSigned app, designed and manufactured by the Gambatte Corporation has managed to soothe the troublesome relations between the author and his fans. Gambatte Corporation creates magnificent, innovative designs and gives a final touch to the products. Requiring memory storage of 17.7 MB, the app is compatible with iPad only. Available only in English version, it requires an iOS of 4.2 or later, its latest version being 1.1.1.
Not only does the app serve to the readers, but also it is a useful asset for the authors in this world of digitization. If the authors feel like sending ARCs of their books to their fans and critics, they might also include a customized signature on their digital copies. They can adjust the pen thickness and beautify their signature with a touch from a palette of colors. Thus, the authors can upload their signed books with just a click.
The app is easy to navigate through. The main screen displays options of "Bookshelf", "Net Connect", "Autograph", "Options" and "Help". The "Bookshelf" dialogue option further diverges into "Signed" and "Unsigned" books. In the lowermost right corner you have the "Options" tab and the lowermost left corner tap takes you to the main screen.
Despite its user friendly interface, it has a certain drawback of restricting its viewership and usability to certain criteria. The books can be opened through iBooks app. Beware that iSigned is applicable only for ePub formatted books only. Video signatures become realistic only through HTML5 compatible readers like iBooks.
iSigned app is unique in its field and offers virtual readers an opportunity to keep up their relationship with their favorite authors. Probably you might not have the latest book of the author you met, but iSigned saves your chance, so can always take his autograph and, later on, upload it to your eBook.