Features fast-paced, arcade-like gaming!
When players think of word games, yawns usually begin to crawl, slowly from the back of throats and make their way forward. Well, Wordistic puts all other word games to shame, featuring fast-paced, arcade-like gaming that puts letters front and center of the action. Developed by mushDevStudio, this game has you racing against the clock to build a real word as letters fall from the sky.
In this game, letters fall from the top of the screen, not the sky, and as you see them you tap on them in an order to spell out a word. Start with a word that needs a letter you are not seeing, and point accumulation drops. Pick the right word, and score! As you get better at predicting and building words, the game moves you up in levels. However, be forewarned as higher levels mean less time to build words.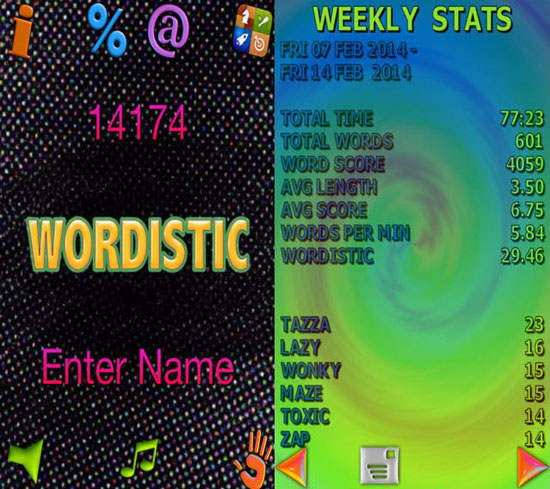 As you play and pick letters to build a word, the game offers up possible choices of words, guessing and predicting what may be floating in your mind. Be careful of what you select, because you may not get the letters you hope for and need to complete your choice. In some cases, you may get a combination that is not worth a syllable, and finds you wasting away precious time for another answer.
When you first start, the main screen will show a number called a "seed". This allows you to play with others on a same game. The number changes every six minutes, allowing you different choices of playing scenarios. You can even educate yourself as you play. An online dictionary can be summoned by tapping on the magnifying glass, so as you build words you get their definition, as well. This feature can be turned ON or OFF, per your preference.
As for the suggestions the app provides, they are given by smaller letters just under the letters you have collected thus far. They provide you with options on roads to take, if you will. Sometimes these suggestions can sway you in the wrong direction should your future letter choices not meet those needs. This is an option that, thankfully, can also be turned ON or OFF.
If you are big fan of Facebook, and love sharing any daring feats of the day, connect from within the app and post screenshots throughout gameplay. The app tallies up statistics on point accumulation, words made and more, so they can shared as well. This page is easily found from the game's main menu via the book icon.
The only downside to this game is the graphics. The colors are very cartoonish, as is the graphics, font, and movement. Some improvement on this will make the game a bit more appealing to older gamers and keep more coming. As a free app, Wordistic is certainly worth checking out, especially if you love words and gaming to boot. Wordistic provides a unique pairing of something educational within a gaming scenario that certainly makes it worth introducing to kids. I'm hoping it helps with spelling come test day!