Featuring 5 reels, rich with several possibilities for winning, Cops n Robbers Safecracker slot machine game is a definite download you can't spend another second without. Brought to the iOS community by Mazooma, Cops n Robbers is chock full of excitement in a single-slot game. Similar in style to its slot cousin, Happy Fruits, Cops n Robbers provides a bit of a different takes on slots, with different symbols, but with just as much punch as its fruity friend.
When you first download the app, you'll get 2,500 credits to get you started. From there, every spin you make will cost you between 25 and 10,000. Initially, you will only be able to play 25, but once your winnings grow, your options to take risks will increase.
You can even earn credits about every four hours about 500 to be exact. The real bonus is telling your friends about Cops n Robbers and having them sign up, as well. This earns you even more credits.
Payout is calculated using 20 different paylines. For novice players, each win, when achieved, is mapped out by the app and connect to the winning pattern. All patterns can be viewed from the HELP screen, which you get to by tapping the HELP button sitting on the bottom of the screen.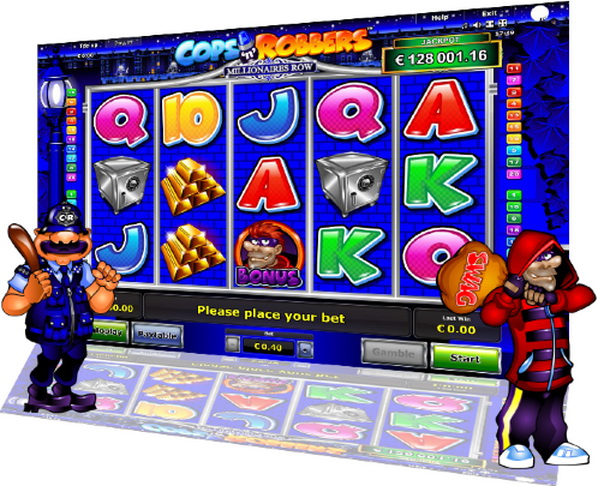 Features include:
Wins when 3, 4 or 5 matching symbols line up adjacently on a win line. Win lines pay from the left to right only and wins can be paid on one, multiple or all win lines.
Wild symbols can substitute for any other symbol except for the Safe, Robber and Swag Bags bonus scatter symbols. Once you play, you'll get a better idea of what this means.
Auto Play function allows players to auto spin until they win one of three auto play bonuses
Chase Bonus: triggered when three or more Robbers appear, scattered. Now you get to roll the dice and move around the board to keep a few steps ahead of the law.
'Swag Bag' Progressive feature showcases three swag bags neatly lining the top of the screen. They will slowly plump up as swag bags appear on reels 2, 3, and 4.
'Gamble Feature' allows players to select their winnings to put up in a gambling card game. Correct guesses provide doubles in return.
When all is said and done, while the game layout mimics that of Happy Fruits, it is played differently and pays out differently. It provides a fresh appeal and new approach to slot machine gaming.
The only improvement I'd like to see is increased readability. While the icons that move about the reels as they spin are quite large and easy on the eyes, the payout line numbers that sit strategically along each side are painstakingly small and hard to decipher. If you don't need to read them, then you are all set. For someone like me who likes to know what's going on, it becomes a hassle to figure out what you've won.
If you love slots and are looking for a new way to play, look no further. Make you next slot gaming choice Cops n Robbers Safecracker. You'll never look back again.

Rating: 8.5/ 10
Price: Free