User-friendly and has a host of features!
Everyone likes to share photos and videos of special and interesting events. There are so many platforms such as YouTube and Facebook as well as other social media sites where one can be able to share our stuff with the world. However, at times, what we may want to share may not exactly be as we want it to be; that is why we need to edit. There are quite a number of applications and software which we can use to edit photos and videos but none is as cool as muvee Action Studio Video Editor Pro.
Action Studio Video Editor Pro is an android phone or tablet app that will help you to edit videos. Unlike many similar apps, Action Studio is user-friendly and has a host of features. With this android app, you can virtually be able to do anything with your videos. You can perform functions such as to trim, crop, cut and also add fancy sound effects.
Some other major features of this app include the slow motion feature. You can play your videos in slow motion and add all the features that you desire. You can also use the fast mode to play the videos faster so as to achieve the desired effect. Reframing of the videos is also possible with this new and free app. Furthermore the developer has made it completely easy to use the app and you wouldn't have to break a sweat in order to use it. Everything is straight forward and simple.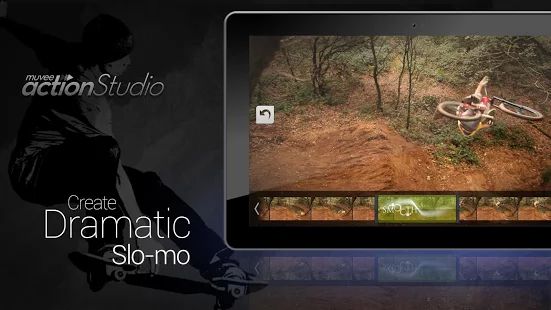 One of the most unique aspects of Action Studio Video Editor Pro is that it is very easy to use and effective. You will only need a couple of minutes to get started. First of all you should download the app free of charge and install it in your device. After this you will be good to go so everything else is plain simple. You can create videos automatically using the Free Style or the 'Action Studio' style. This is the most basic and easiest style as the app will automatically do the editing for you. With this auto mode you just choose a style and hit the play button and everything else will be automatic.
The other mode is the fast mode. This is the fastest way to trim and combine your clips together. You can also create slow motion videos without transcoding meaning that that the operation will be ultra fast and there is no loss in the quality of your videos. The other mode is the pro mode. This gives you full control of your videos and you can perform a host of operations which include adding titles, captions, filters, overlays, reframing shots and slow motion sequences.
Action Studio Video Editor Pro is full of features. Almost anything that can be done on a video in an android phone can be done with this app. That said, it's important to note this application has some compatibility issues with a number of android devices. This makes the specific devices to hang when the app is running. Hopefully the developer will fix this in the near future.