Read only those emails that you want!
Emails have certainly made things easier on the communication front: getting and receiving messages has become much faster and definitely more convenient. Now, anyone can check their emails anytime, anywhere, and make the necessary replies, just by tapping on keys on whatever device they happen to be holding at the time.
But the email facility is not without its flaws. Those that receive high volumes of emails often encounter problems with their inboxes being flooded with messages – more than half of which are emails they are not truly interested in. Soon, checking their inbox becomes an exhausting exercise of wading through unwanted emails. In the end, some of the more important emails get overlooked or ignored altogether.
To rectify this issue, app developer Mail Wise came up with Email Exchange +. It is an email client that allows users to organize their inbox, so they can choose which email conversation threads to focus on. In fact, this program allows users to be able to read only those emails that they want or need. The first of the many great things about this email program is that it is free. Just download it from the Play Store, install it on your phone or device, and you can start using it right away, without spending a single cent on it!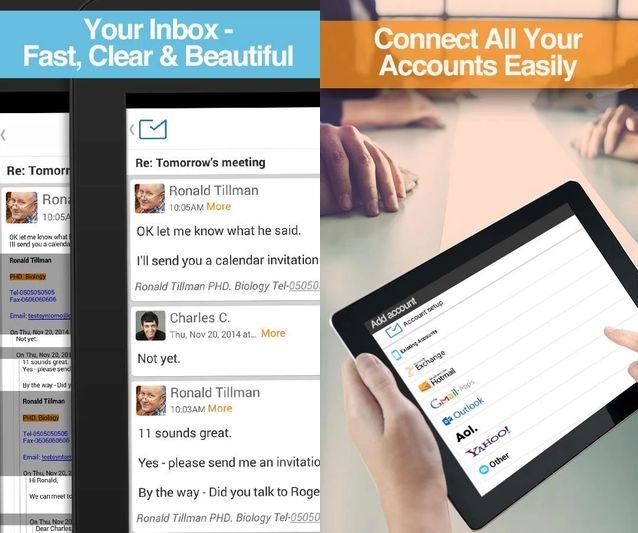 Once the Email Exchange + app has been downloaded and installed, users can immediately sync their email account for Microsoft Exchange ActiveSync, Outlook, Yahoo, Gmail, AOL, Live.com, MSN, Hotmail, GMX, IMAP, and other webmail services. This means that, even if you have multiple email accounts, you will get to check your emails in one place. This is definitely welcome news to users that maintain more than two or three email accounts with different providers. It cuts down on time spent logging in and checking out of each account, because Email Exchange + brings it all in one place. All it would take is a single login for you to be able to check your personal and work emails.
Security is one other issue that most users have with several email providers. Mail Wise designed Email Exchange + purely as an exchange email app. Since Mail Wise does not maintain a server to store the emails, all the data will be stored locally on the device being used to check emails. This means that you do not have to worry about important data or emails leaking out from any mail server.
It is a fact that there are simply emails that are more important than the rest, but with the volume of new emails coming in, there is a risk that they will be relegated to the background and we will end up having trouble retrieving the old ones. With Email Exchange +, it becomes easier and much faster to find these old emails, thanks to the Quick Search facility. This app also comes with a conversation mode, so users can be more interactive while checking their inbox. In case of emails that are repeatedly received, this app organizes them by grouping repetitive emails automatically.
Aside from organizing your email inbox, you may also use Email Exchange + to manage your contacts list; adding contacts is a breeze. Other great features include Calendar Sync, attachment forwarding, and email importing, to name a few. We cannot end this review by not mentioning how streamlined the inbox experience is rendered by Email Exchange +. The design is very user-friendly, since headers and signatures are kept hidden.
Price: Free