It has never been this easy to set notifications!
App Store has alarms and a lot of other notification apps. Is it possible to get notified with a video? Yes, a new app can help you in this. Let us examine this app.
VDO Notifier has simple interface, so users don't have to mess around the app to set video notifications. It has four sections Notifier List, Notifier Alert, Sharing Center and Information. Users can add a notification by tapping the plus button on the Notifier List.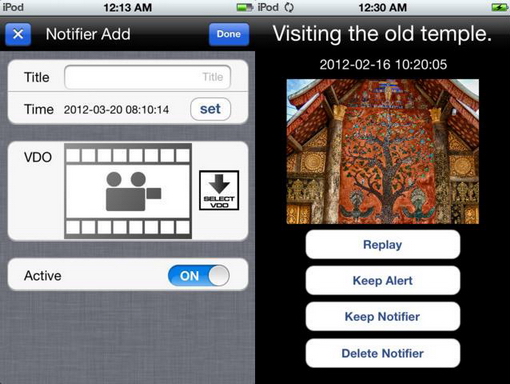 It would guide them to the Notifier Add screen, where users need set time and add title and video for the notifcations. The can use the camera roll videos, but they can't shoot a new one after reaching the Notifer Add screen. If they don't feel like adding the videos of camera roll and want to shoot a new one, they have to move back to the Notifier List screen.
From there, they can start recording a new video by tapping on the camera icon. I think, the developer has missed a trick by not adding the feature to let users shoot a new video from Notifier Add section. After adding a video notification, VDO Notifier would alert users on time with a notification.
They can view the alert in the Notifier Alert section of the app. It will play the particular notification video. Users can replay it, delete it, keep notifier alone or keep both the notifier and the alert. VDO Notifier has Sharing Center to help users share the notifications with other iDevices via Bluetooth.
The App Store description doesn't tell much about the app and also it doesn't have a Help area. As VDO Notifier is a paid app, developers can't afford to ask the users to give it a try to know all its features. This app is compatible with iPhone 3GS, iPhone 4, iPhone 4S, iPod touch (3rd generation), iPod touch (4th generation) and iPad and requires iOS 5.0 or later.
VDO Notifier is not just another notification app. If you love to get your notification with a nice, short clip, this app can impress you.