Plan everything from one place! 
The days of diary or day-planner toting are now gone. Yes, you will find a few who cannot give up pen and paper and thrive on being able to jot a note down; but, to really stay on top of what's going on in your life, at work and at home, there's an app for that! OK, well maybe more than just one app. Today, you can find a multitude of work management apps that claim to simplify life. Well, life cannot get any easier, but managing it can. The creators at Becoming Your Best offer an app that utilizes tips of the trade on how to make the most of every minute you spend working, playing and planning. It's called Life Organizer, and it is ready to help you make life happen.
Life Organizer keeps it all in one place: all of your appointments, meetings, parties, goals and more. It also gives you the tools you need to break each end goal down into steps and tasks that keep you on track to meet those end dates and goals. The best part is that it's all mobile, which means that you can make updates and get reminders exactly when you need them, so you can act on them, fast! This app makes getting to information quick and easy. Its interface is well-organized and quick to respond to any change you need to make. The best part is that functional areas of your life are inherently represented in the app. The main screen of the app is divided into three main areas: Lead, Manage and Grow. Each of these sections allows you to capture and control what's happening in your life at different levels.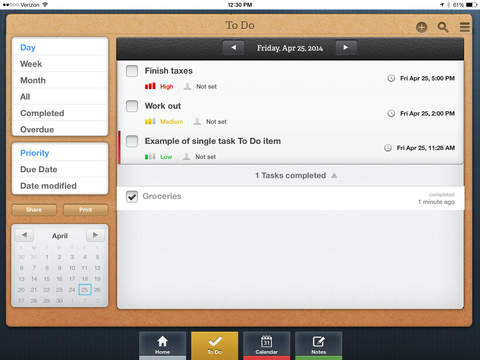 Lead allows you to take a macro look at your life by defining an overall Vision for you, your family, your career and more. Visions can then be broken down into Annual Goals to help you work towards each of those Visions. Annual Goals are then further dissected and compartmentalized into easily digestible tasks in Weekly Planning.
Manage offers you a Calendar and a TODO list so you can stay on track and be alerted, on your terms, of events taking place today, this week and this month. It facilitates smoother execution and completion of tasks that comprise larger goals. 
Grow lets you, at the fine detail level, execute on tasks, missions, visions and long-term goals. This section gives you an area to take Notes of different kinds, so you can keep them organized and readily retrievable. Access to the Becoming Your Best website from within the app gets you to resources you need instantly to help you plan out and achieve goals. The app requires permission to tap into your device's Calendar, so that you can get the alerts and reminders you need to make the app fully functional; but, does not venture past this in terms of privacy issues.
The only downside to the app would be the lack of consistency amongst the toolsets. Moving around from one tool to another, I felt as if I was using different app entirely. A bit more of a consistent look and feel will give a more professional presentation and cohesive applicability. Life Organizer is available for free for a limited time, and afterwards can be purchased via a monthly or yearly subscription. I found it to be all-encompassing and full of potential.