Posting Videos has never been easier! 
Capturing special moments in life and sharing them with others is something we all love to do. It's so easy to freeze the moment, in either a still photo or a moving picture, and send it to friends and family anywhere in the world, thanks to the plethora of apps that reside on mobile devices, powered by the cloud. But, what if you can take a video you just saved and make a tad bit better? Imagine taking a snippet of a moment that you want to share and making it a little more clear, a little more funnier or a little more artistic.
You can easily do so with ALIVE – Video Editor. Equipped with all that you would expect from a mobile video editor, ALIVE lets you take a video up to a 30 seconds in length, instantly enhance it and share it with the world; all from within the app. What makes it even easier to use is its seamless connectivity to Facebook. Posting videos has never been easier; and now, posting enhanced videos will make you shine even brighter. When you first download the app, it will ask you to register. You can provide either an email address or your Facebook id. Either way, you will have instant access to the web and your recipients will have instant access to your clips.
These clips will not be like any other clips, mind you. ALIVE lets you take snippets of video, whatever it is you are in the midst of, capture it, and shape it the way you want, so it stands out and takes notice. You may be filming something calm and serene. If so, you can add special backlighting effects, auras and more to make the video come to life in way that enhances your focal point. If you are taking video of something in particular, like an object on the table that's about to do something, you could add a funny arrow that pulsates and draws the viewers attention to it.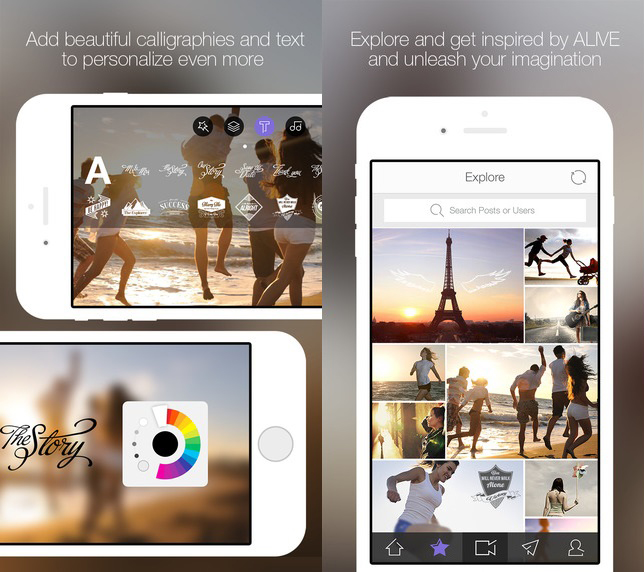 These are just a few of the types of enhancements you can make to your video using ALIVE. This app offers four categories of updates:
Filtering Effects
Object Effects
Text Effects
Music Effects
Whatever you think will make your video better, you will have at your disposal. Friends will be taken aback at your creation when you send them a video of a campfire that is made more real when a smoky ring that you edit in begins to form and float around and away. Users have fun with their videos, as do viewers.
The only drawback to the app would be its initial set of enhancements, which, at the end of the day, cannot be considered too great a fault, because the app is for free. But, I can say that I eagerly look forward to a new set of effects to keep my viewers hungering for more.