Selectively listen to what you love! 
Your cruisin' in your car, enjoying sounds from your playlist when, BAM!, you hear a song that you just don't want to hear anymore. We've all got them. With so many songs and tunes flooding devices, it's easy to come across one that you've grown out of, have heard too much, or just simply want to skip.
That's where Skiplayer (skip player) comes in. Remember, that while you are driving, the last thing you want to do is take your eyes off the road. Skiplayer is an app that plays your playlist, but makes it extremely easy for you to navigate your playlist, and even permanently skip songs you just don't want to hear anymore.
When you want to mark a song as a "no play", you can either use buttons in your car or your iPhone's touch display. Skiplayer integrates seamlessly with your car's controls so you can use your car's media FWD button to permanently skip a song, or, while that song is playing, tap on the iPhone screen to pull up the Skip Forever control – disabling that song forever.
When first downloaded, Skiplayer automatically ties into your library and starts to play it. From there, you are gently guided through a simple, yet helpful, tutorial of gestures to drive the app from the iPhone. Simple swipes and taps play or pause songs, skip to next songs or mark them for "no play."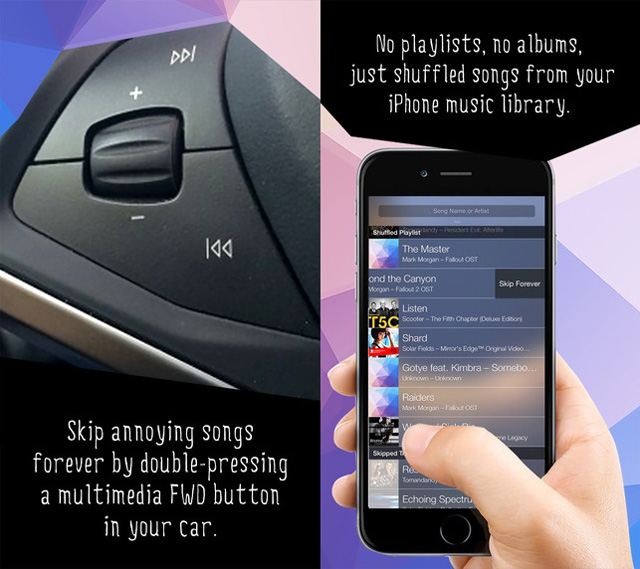 The interface is super clean and crisp, bringing focus to the sounds, rather than the display. It's easy to get distracted when things are flashing on your iPhone screen, so, Skiplayer skips that static, because safety comes first.
Here are the basic functions while you are in Skiplayer:
Swipe UP to see the playlist

Swipe LEFT to forward to the next song in your playlist

Swipe RIGHT to replay the previous song

Swipe DOWN to see Skiplayer's main screen

Tap to PAUSE

Tap and HOLD to see options specific to a playing song

Skip Forever – a skip icon at the top

Mark a Favorite (aka never skip) – a star icon at the bottom

Replay previous song

Play next song
The only downside to this app was the Tap and Hold functions. When you first invoke this screen from a song, you are shown all four options or icons: Skip Forever, Favorite, previous song and play next song. To choose one, you have tap/hold and slide in the direction of one of the icons. The functionality I did not like was that if you slid up, then the app assumed you only wanted to choose either Skip Forever or Favorite – the previous and next icons would disappear. If you slid left or right, the Skip Forever and Favorite icons would disappear. I would have expected to have all four options available to me.

Developer: InVooDoo
Price: Free