Adventure games are unique games that fall into a particular category or fits into various categories all at once. These games are explicitly designed to take you on the adventure of your life. They can be anything ranging from shooting games to action, thriller, and horror, to puzzle games. People, especially teens, are in search of games that can not only entertain them but also challenge their wits. Such games are a rarity when it comes to Android's play-store games. If you are willing to spend a few precious minutes searching for a game that satisfies all your gaming requirements, then consider the time well spent.
If you are 18+ and ever have wished to play a real, narrative-driven game that is dark and heavy themed, Sixth Extinction by Polte Games is the one you have been seeking. This game is beyond anyone's imagination. The voice-driven narration increases your curiosity and convinces you to keep exploring the game. The game is dark, challenges you to outwit the obstacles that will come in your way, reveal the truth, and begin a change.
Sixth Extinction allows you to move forward, one or more steps at a time until you encounter an obstacle. You need to push the barrier aside and march towards your victory. Yes, it is as simple as that. Though the game might sound too plain, the atmospheric experience and the hand-drawn visuals make the game worth the play.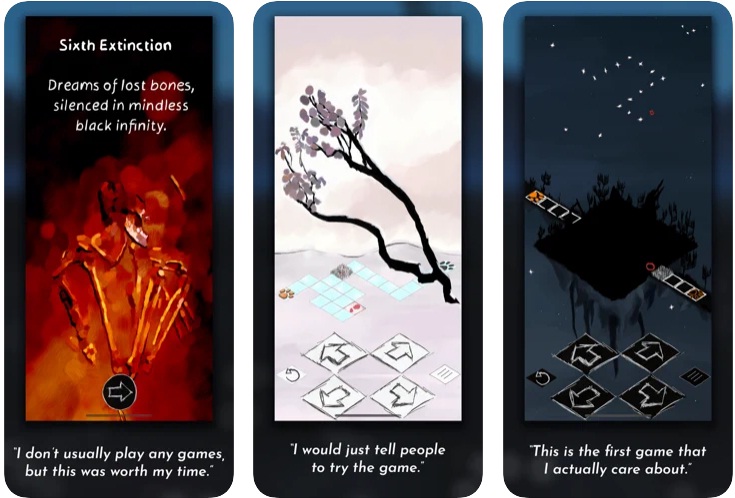 Imagine this situation. The Earth is invaded by aliens who have no mercy whatsoever. They have destroyed your family, home, and everything that matters to you. With no shelter or escape, they have bought humanity to the brink of extinction. Every place on Earth is rampaged, every human being enslaved or slaughtered, leaving you no place to hide. A miracle happens here. You get a chance to fight back and kill one of their kinds, the aliens. You follow them closely, and when you are all set for your kill … If the storyline has grabbed and bewitched you already, wait no further. Grab your smartphone and download the Sixth Extinction game by Polte Games.
The hard-hitting story lurks beneath the gameplay, and it is up to you to lose yourself in the game and uncover the truth. The game makes you learn more about yourself, the dark, unseen side, and discover what your choices say about you. The hand-drawn visuals impart the game a lively feeling while the poetic narration draws your attention and enhances your enjoyment.
An adult audience is recommended as the game story revolves around extinction, brutality, and revenge. After completion of each stage, there is a short delay before moving to the next level. However, this lag is good as it gives us the time to think about the challenges we may encounter in the next.
This adventurous game is worth every dime of your money.

Rating: 9/ 10
Price: $ 1.99