CloudMounter is a service that lets you encrypt all the files you have on Dropbox, Google Drive and/or One drive account for free! The latest version 3.0 supports further cloud service including: Box cloud service, Back blaze B2 and Amazon S3.
Using the CloudMounter your internal hard drive can be extended and the amount of data which you are able to operate with is extensive with access from any place with an Internet connection. You have the possibility to link up to as many accounts as you may need which gives the user an infinite disk space. All of your data is securely encrypted for your own safety.
Google Drive, Dropbox and OneDrive synchronization comes for free and gives you the ability to open, copy, share and use all of your files, as if you were using your folders on your hard drive.
The interface is built into the Finder on Mac devices, for easier access and intuitive icons are displayed from the app. It synchronizes with the MacOS keychain throughout your accounts for easier access.  All of your data is securely protected with a high-end encryption algorithm, in case your account gets stolen so that no one else gets access to your files.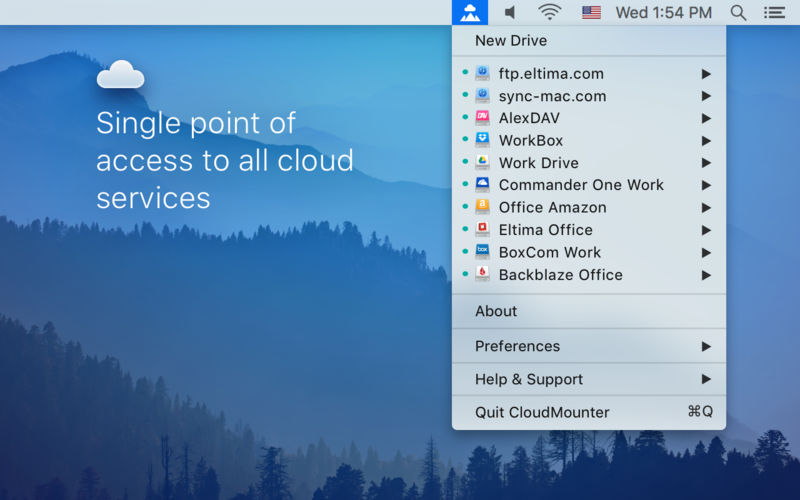 All of your important data will be remotely saved to your computer if your transferring files from one your services to another until that transfer is complete in case of a failure so that you will be able to just continue with your work in no time.
A master password is provided to your account, sot that anyone trying to read your files without the password will be displayed complete non-sense. All of your important work will be saved and secured.
Since the latest updates the service is FREE for basic use. The subscription prices are as follows:
Basic Use – FREE!
Standard- 3 months – 4.99$
Economy- Annual subscription – 14.99$
Site version – Lifetime Upgrades Guarantee – 44.99$
You can always move to an annual subscription if you are happy with the product when your 3 month subscription expires or if you are using the basic functionality of the application. Owners of previous subscription can upgrade using 50% off.
Feel free to download the FREE Trial which will last for 15-Days and then make up your mind on which option would you like.
The interface of the app is integrated with the Explorer and it would feel as you would have been using your local files on your machine.
CloudMounter is also a cross-platform application. You can use it if you have a Windows Machine just as easily as you would on Mac Device. However, Windows version now supports only three main clouds (Dropbox. Google Drive and OneDrive).

Rating: 8/ 10
Price: Free